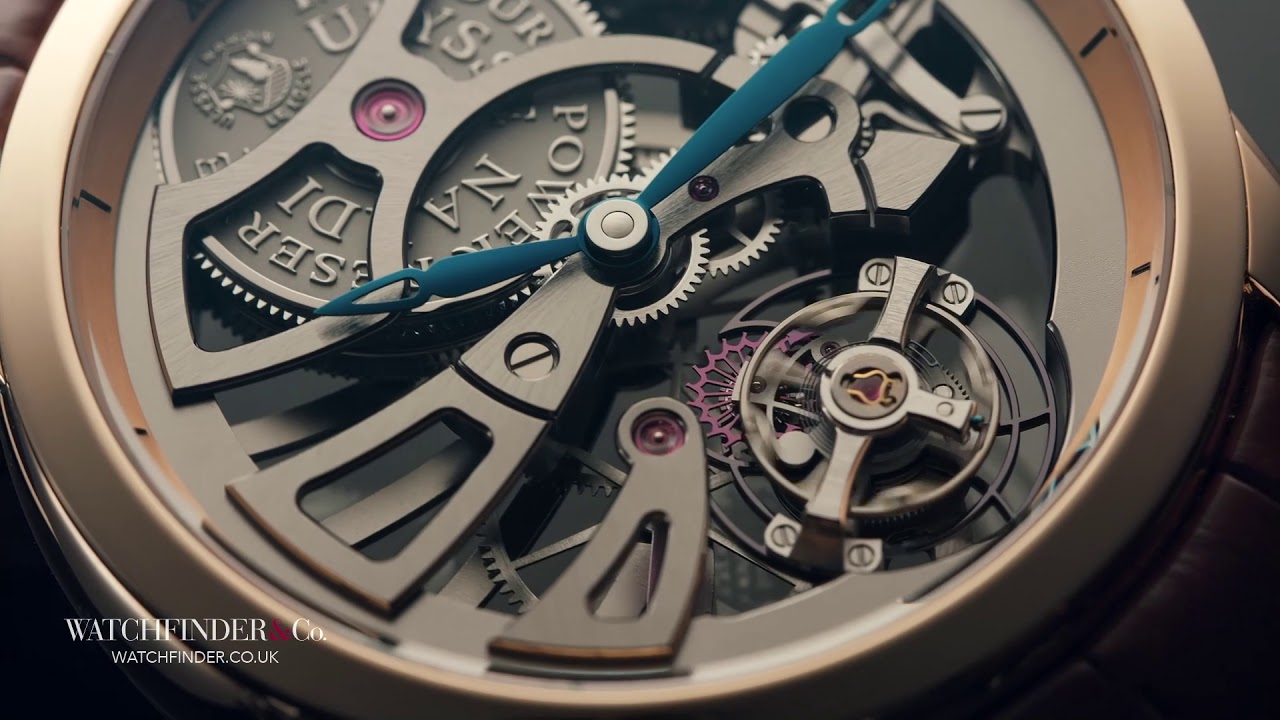 This is an image of the actual watch
This is an image of the actual watch
This is an image of the actual watch
This is an image of the actual watch
This is an image of the actual watch
Limited Edition
Ulysse Nardin
Skeleton Tourbillon
1706-129
$62,745
$65,265
Save $2,520
RRP: Discontinued


Free Delivery In 7-9 Business Days



14 day returns for your peace of mind



Watchfinder Authenticity Guarantee



Watchfinder 24 months Warranty
Specification
Box:
Yes
Papers:
Yes

The original warranty certification issued with a watch.

Year:
2019
Product code:
160314
Manufacturer warranty:
1 Year 8 Months remaining

Our watches have a 24-month warranty for your peace of mind, in conjunction with any remaining manufacturer's warranty from new or from service. Warranty claims on watches covered by a manufacturer's warranty can be sent either to us or direct to the manufacturer.

Watchfinder warranty:
24 months

This watch is covered by our full 24 month warranty, giving you a full two years of peace of mind.

Case size:
44 MM
Case material:
Rose Gold
Movement:
Manual

A mechanical watch is powered by a spring. Manual mechanical watches must be hand wound. Automatic watches are also mechanical, and are wound by a weight that spins with the wearer's movements. A quartz watch is battery powered and extremely accurate.

Bracelet:
Alligator - Brown

(adjustable)

Dial type:
Skeleton
Water resistance:
30 metres
Description
Featuring the in-house calibre UN-170 movement, boasting an impressive power reserve of 170 hours, the Skeleton Tourbillon features advanced silicium technology. Released in 2014 after a standout display at Baselworld a year prior, the Skeleton Tourbillon Manufacture is an excellent example of a skeleton watch—down to the leaf-shaped hour and minute hands, whose tips are also skeletonised. As in the name, even the tourbillon itself is impressively skeletonised, being a first for the watchmaker. Ulysse Nardin even designed the tourbillon from scratch, opting out of simply skeletonising one of its existing movements. Perfect for collectors, being very rare, this stunning watch is limited to just 99 pieces in both white and rose gold.
This Ulysse Nardin has undergone a thorough inspection of water resistance, accuracy, functionality and condition to determine the level of reconditioning required to meet our strict standards. It has also been referenced against technical documents and manufacturer records where available to ensure authenticity and a clean history. Our watches have a 24-month warranty for your peace of mind, in conjunction with any remaining manufacturer's warranty from new or from service.
Expertly Prepared

By Watchfinder

It's more than the work of a moment to make a watch ready for Watchfinder. Find out just how much goes on behind the scenes to prepare your next watch for you.

Discover more

Discover more about

selling your watch

Selling your watch to Watchfinder couldn't be more simple and straightforward. We offer highly competitive quotes, as well as a quick and hassle-free service.

Get Started
Ask a question
Please fill in your details below and our team of experts will be in touch.
Wrist Sizing Guide
Unsure about your wrist size?
Find out how to measure your wrist with our

helpful guide
How to measure your wrist
To get an approximate idea of what a watch will look like on you, you'll need to measure your wrist. Using a ruler, measure the distance from one side of your wrist to the other in centimetres as shown in the illustration.
Limited Edition
Whether part of a limited production run or simply a piece that has declined in number over the years, limited edition timepieces are exclusive treasures, with very few examples existing in the world.
Manufacturer's Warranty
Our watches have a 24-month warranty for your peace of mind, in conjunction with any remaining manufacturer's warranty from new or from service. Warranty claims on watches covered by a manufacturer's warranty can be sent either to us or direct to the manufacturer.
Delivery and Returns Information
Free Delivery in 7-9 business days
If you are based within the UK, this watch will be shipped to you free from Watchfinder UK. Don't worry, there won't be any import fees. The little bit of extra wait will be worth it! If you are purchasing outside of the UK, customs duties and other liabilities may apply. For more information, please see "Customs" within our
Conditions of Sale
.
14 day returns for your peace of mind
If you receive your watch in the post and don't like it, you have fourteen days from receipt to return it for a full refund.
Watchfinder Warranty
Watchfinder 24 months Warranty
This watch is covered by our full 24 month warranty, giving you a full two years of peace of mind.
Authenticated
Watchfinder Authenticity Guarantee
The watchmakers in our manufacturer-certified service centre are equipped with the knowledge and experience to ensure that every single watch is genuine. Nothing is left to chance, with watches being inspected at high magnification both outside and in.
---
How Is A Watchfinder
Watch Prepared?
The premium pre-owned watch experience starts with us. Find out how we authenticate, inspect, restore and service every item.
Watch Condition
Watchfinder's condition rating applies to the aesthetical condition of the watch.
Unworn
This watch has not been worn and has no signs of wear & tear
Manufacturer stickers and seals may be present
Excellent
Minimal signs of wear & tear, with only very faint handling marks to the case and bracelet, no dents
May have been lightly polished
Crystal has no imperfections or chips
Very good
Few signs of wear & tear, with light scratches to the case and bracelet and no visible dents
May have been lightly polished
Crystal has no chips, but may have a minor imperfection
Good
Has some age-related wear, with minor scratches or small dents to the case & strap possible
Is likely to have been polished
Crystal may have a small chip or imperfection
Fair
Has significant age-related wear with obvious scratches and dents
Has been polished to bring to best possible standard
Crystal is chipped in multiple locations and/or has other imperfections
Vintage
This watch is an older model and due to its age, we may not have polished it to retain its original characteristics as far as possible. Work may have been carried out by previous owners.
Price Promise
Found a watch cheaper elsewhere? Tell us about it and we'll beat it.*
*Please view our Terms and conditions for further information
This is an image of the actual watch
This is an image of the actual watch
This is an image of the actual watch
This is an image of the actual watch
This is an image of the actual watch
Part Exchanging couldn't
be easier
The Watch You Want
Product Code: 160314
Ulysse Nardin Skeleton Tourbillon 1706-129